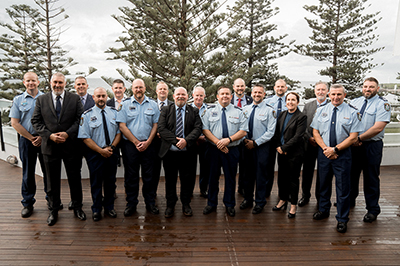 On Friday 20 May, The Australian Electoral Commission declared the result of Elections for the Senior Executive of the Police Association with Kevin Morton elected President, unopposed.
Kevin is a General Duties Sergeant attached to Northern Beaches PAC. He's served 32 years with the NSW Police, including at Kings Cross and Sydney's Northern Beaches. He's been Field Organiser for the PANSW, an Executive Member and Vice President for the last four years. His partner is an Inspector with the NSWPF, they have two children.
Ian Allwood has been elected Vice President, unopposed. Ian is a General Duties Sergeant attached to Port Stephens-Hunter Police District and a veteran of the Royal Australian Navy. Roger Campton has been elected Treasurer, unopposed. Roger is a Proactive Crime Team Sergeant attached to Murray River Police District.
The PANSW bids fond farewell to outgoing President Tony King and Treasurer Craig Partridge.
Craig joined the NSW Police Force in 1997. He's worked in metropolitan Sydney in General Duties and Criminal Investigations, at Sydney City, Rose Bay, and Campsie where he's currently a Sergeant. He's been a Branch Official with PANSW since 2005, an Executive Member of PANSW twice and is currently Treasurer. He was actively involved in the Association as Chair of the Women's and Diversity Committee, the Finance and Governance Committee and the Awards Committee. He will continue to support the blue family as the Vice-Chair of NSW Police Legacy. 
Other changes to the Executive Committee: Paul Ireland replaces Ian Allwood (Northern 1). Matthew Webb replaces Jeff Budd (Commissioned Officers Branch). Stephen Waddington replaces Anthony Roberts (South West Metro 1). Ed Taylor replaces Roger Campton (Southern 1).