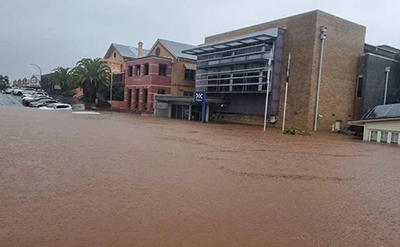 Dear members,  
Like all of us, I watched overnight as heartbreaking images of flooding on the Mid-North Coast and moving accounts from the locals impacted were shared. As a North Coast resident myself, the devastation in the Richmond Police District and further north in the Tweed Byron Police District is beyond description. With the Coffs Clarence region now impacted, this crisis has begun to affect even more areas of News South Wales and their communities.   
The local police on the ground have worked tirelessly in conjunction with all Emergency Services as this once in a lifetime event has unfolded. Sadly, while out helping the community, many members have lost their own homes or suffered extensive property damage within police residences due to flooding. 
ASSISTING ON THE GROUND
Our Field Organising team has been in touch with members who have been impacted by the floods and have helped them access the PANSW Welfare Assistance Scheme. Funded by members for members, the Scheme is designed for these extraordinary circumstances – allowing us to support our members to get back on their feet with accommodation, clothing and financial grants.
LEAVE ENTITLEMENTS 
Any member who has been unable to attend work due to the weather conditions, including the closure of schools, can access Family and Community Services Leave under Clause 29 of the Crown Employees (Police Officers 2021) Award. 
WE'RE HERE TO HELP
Over the past three years, the PANSW Welfare Assistance Scheme has spent more than $2 million supporting our members during challenging circumstances like these.    
If you or your colleagues have been impacted by the floods and require our assistance, please contact us via email or on the phone via the Information Organising Centre on (02) 92656777.  
Thank you and take care,
Tony King - President, Police Association of New South Wales (PANSW)