LAW ENFORCEMENT TORCH RUN TURNS 20
NSWPF CoP Karen Webb presented a $60,000 cheque to Tony Moore, Chairman of the Special Olympics NSW. In two years, officers from across the state, including recruits at the NSWPF Academy in Goulburn, have donated almost $200,000 to support this initiative. The funds raised will help send a team of athletes to the National Games in Launceston in October. Photo credit: NSWPF.
By Sonia Roberts
PANSW Police News Contributor
A request to "take a look at a file" was the starting point for a group of now-retired police officers to begin one of the NSWPF's largest community engagement initiatives.

Among the group is former Detective Inspector Alan Keane, who retired from NSW Police in 2005 after 25 years of service. He is currently the President of the Law Enforcement Torch Run NSW - one of many officers who continue to be a part of LETR after they hung up the badge.

LETR is a worldwide police charity that operates the largest and most active community engagement initiative in global policing today. In Australia, the program funds much of the week-to-week activities of the local Special Olympics clubs in the community – allowing people living with an intellectual disability to get involved in sports and organised competition. This year is the 20th anniversary of the LETR in NSW.

Read more
LATEST STORIES
RETIREMENT CELEBRATIONS & FUNCTIONS

Superintendent John Gralton APM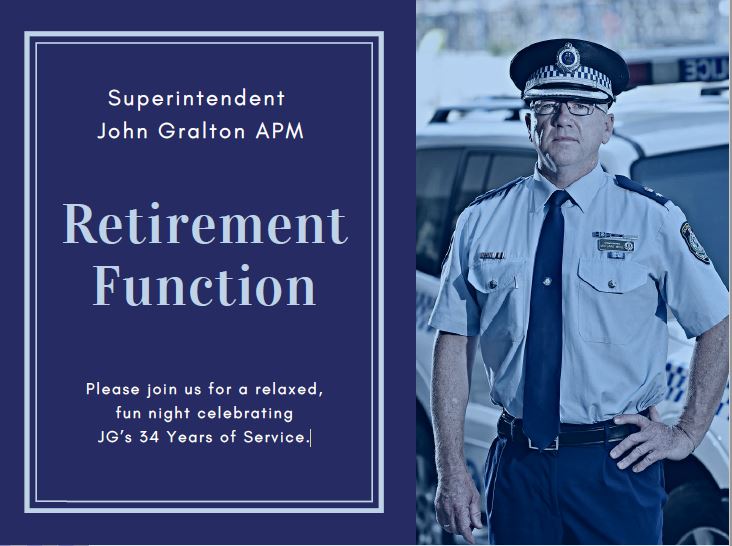 The Details
Thursday 9 February 2023 at 6.30pm - 11.30pm
Cocktail/Semi-Formal
Merewether Surf House

Tickets
$100 per head. This includes substantial canapes, 4-hour drinks package (premium beers, wines, soft drinks) and live music.

RSVP
Please respond to
annmaree.gralton@gmail.com by November 30, 2022

For further details, please contact

Ann-Maree Gralton
0417 880 809
Email

Det Supt Greg Thomas
0429 574 206
Email

Rosalia Dunlop
0418 251 796
Email

Payment
AccName: JG Retirement Function
BSB: 637 000
Acc: 725 817 428
Reference: Your Name

Payment Due 20th December 2022



Retirement Farewell Function For Senior Sergeant Stewart Andrew Lockrey - APM - After 43 And A Half Years Service

Time: 6pm - 11pm

Date: FRIDAY 20th JANUARY, 2023

Venue: HORNSBY RSL, 4 HIGH STREET, HORNSBY

Dress: SMART CASUAL

Cost: $90 per person includes COCKTAIL MENU AND DRINKS

Payment: Police Bank Account "TRG Charity" No. 1004 69729 BSB: 815000

Reference: YOUR NAME

Contact: S/Sergeant Grant Bucknell (8396-1615), Sergeant Gary Thomas (8396-1615) or Sergeant Ryan Lucas (8844-6080).

R.S.V.P. and PAYMENT BY 10TH JANUARY, 2023.


UPCOMING REUNIONS

Class 191's 40th-anniversary celebration

Date: Saturday 11 February 2023
Time: 1 pm
Venue: The Cleveland Hotel, Surry Hills NSW
For more information, please contact Kerrie Sicard on 0418 673 095
Do you have a story, reunion or other Associate News to share? Contact us at policenews@pansw.org.au.