LAW ENFORCEMENT TORCH RUN TURNS 20
NSWPF CoP Karen Webb presented a $60,000 cheque to Tony Moore, Chairman of the Special Olympics NSW. In two years, officers from across the state, including recruits at the NSWPF Academy in Goulburn, have donated almost $200,000 to support this initiative. The funds raised will help send a team of athletes to the National Games in Launceston in October. Photo credit: NSWPF.
By Sonia Roberts
PANSW Police News Contributor
A request to "take a look at a file" was the starting point for a group of now-retired police officers to begin one of the NSWPF's largest community engagement initiatives.

Among the group is former Detective Inspector Alan Keane, who retired from NSW Police in 2005 after 25 years of service. He is currently the President of the Law Enforcement Torch Run NSW - one of many officers who continue to be a part of LETR after they hung up the badge.

LETR is a worldwide police charity that operates the largest and most active community engagement initiative in global policing today. In Australia, the program funds much of the week-to-week activities of the local Special Olympics clubs in the community – allowing people living with an intellectual disability to get involved in sports and organised competition. This year is the 20th anniversary of the LETR in NSW.

Read more
LATEST STORIES
RETIREMENT CELEBRATIONS & FUNCTIONS

Sergeant Martin Evans Farewell

Come and join us in farewelling Sgt Martin (Marty) Evans after 28 years in the NSW Police Force

Worked at Liverpool, Green Valley, Macquarie Fields, Eagle Vale and Campbelltown Stations and life member of the Macarthur Bulls.

Date: 28th April 2023
Location:West Leagues Club
10 Old Leumeah Road, Leumeah
Time:6pm – 11pm
Cost: $65.00
2 Course meal sit down meal included

For payment please contact Insp Stephen Greer (Campbelltown) 31152@police.nsw.gov.au
Sgt Ben Kemp (Campbelltown) via email


Retirement Function of:
Sergeant Ron MUDFORD (17100)
Sergeant Richard "Ben" HALL (18863)
Senior Constable Tim HARVEY-WALKER (23360)
Detective Senior Constable Shaun DURBRIDGE (25081)
Senior Constable Steve CHERRY (25361)
Senior Constable Neville "James" STYLES (27737)
Senior Constable Vanessa WITHERS (28808)
Senior Constable Bryan CARNEY (39971)
Senior Constable Mick FOSTER (42780)
Senior Constable Sharon MCDONALD (48035)
6.30pm Friday 24 March 2023
Hastings River Room
The Westport Club
Buller Street, Port Macquarie
Cost; $90 a head (covers substantial finger food & 4 hour drinks package)
RSVP with payment via www.trybooking.com/CFEZU prior to 15/3/23. (Limited numbers - No tickets at the door)
Inquiries:
Ruth Handley (hand1rut@police.nsw.gov.au)
Michael Aldridge (aldr1mic@police.nsw.gov.au)
Gemma Healey (heal1gem@police.nsw.gov.au)

Superintendent John Gralton APM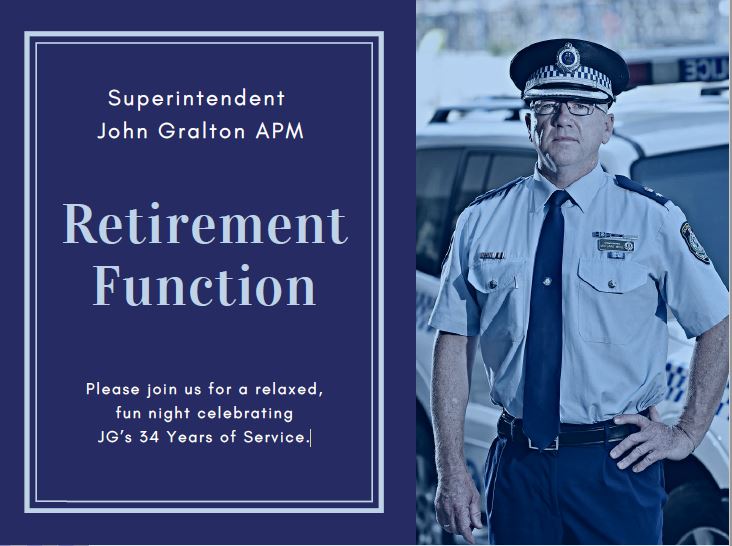 The Details
Thursday 9 February 2023 at 6.30pm - 11.30pm
Cocktail/Semi-Formal
Merewether Surf House

Tickets
$100 per head. This includes substantial canapes, 4-hour drinks package (premium beers, wines, soft drinks) and live music.

RSVP
Please respond to
annmaree.gralton@gmail.com by November 30, 2022

For further details, please contact

Ann-Maree Gralton
0417 880 809
Email

Det Supt Greg Thomas
0429 574 206
Email

Rosalia Dunlop
0418 251 796
Email

Payment
AccName: JG Retirement Function
BSB: 637 000
Acc: 725 817 428
Reference: Your Name

Payment Due 20th December 2022
Macarthur Branch, Retired and Former Police Association Inaugural Golf Day - Thursday 1 June 2023
The RFPA Macarthur Branch is holding our inaugural Golf Day to raise money for the purchase of life-saving defibrillators, to be placed in police vehicles attached to Campbelltown and Camden Police Area Commands (two for Campbelltown, one for Camden).
Date and venue:
Thursday 1 June 2023, Lakeside Golf Club Camden, Raby Road, Gledswood Hills.
Shotgun start 8am.
What you get for $150 per player:
18 holes of golf on a highly rated course paired in a motorised golf cart
Golf ball & tees for each player
Medallions for Nearest the Pin 3rd & 14th & Longest Drive 2nd & 15th
Trophies will be presented to the winning team of four
Breakfast: Bacon & egg roll with tea or coffee from 7am
Quality lunch in Bunkers Restaurant
On course drinks, raffle & auction:
A drinks cart will be on course if you wish to purchase soft drinks, water, or alcohol (Drink Responsibly - alcohol available after 10am).
Raffle tickets will be sold & we will conduct a silent auction. All money raised will be used for the stated purpose.
If you wish to support the day, play on the day, or require further information, please contact:
Steve Reeves on 0423 454 661 s.a.reeves@hotmail.com or
Roger Ford 0412 409 905 rogerandlorraine.health@gmail.com or
Lakeside Golf Club Pro Shop (02) 4634 5838


UPCOMING REUNIONS

Class 191's 40th-anniversary celebration

Date: Saturday 11 February 2023
Time: 1 pm
Venue: The Cleveland Hotel, Surry Hills NSW
For more information, please contact Kerrie Sicard on 0418 673 095 pr David Brissett via email
Do you have a story, reunion or other Associate News to share? Contact us at policenews@pansw.org.au.