50th Anniversary of Class 131
Mick Timms
PANSW Police News Writer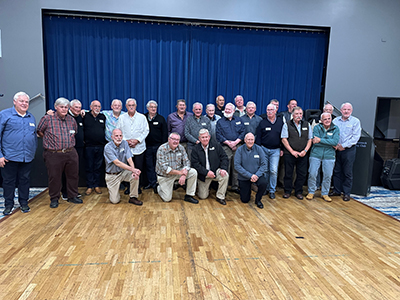 On 19 June 1972, some 153 NSW police officers were sworn in by Commissioner Norman T Allan QPM at the Redfern Police Academy.  
Half a century later, 27 of those graduating officers gathered in Cessnock for a 50th-anniversary reunion, which was held over the weekend of 18-19 June 2022.
"We started our training on 8 May 1972 and passed out six weeks later," Mr Geoff Doring, member of Class 131 told PANSW Police News.
Mr Doring took up the challenge of locating previous classmates and organising the event.  Given the vagaries of policing, some classmates hadn't seen each other in decades.   
The weekend began with Saturday lunch at Cessnock Bowling Club, which turned into dinner.  The next morning, classmates gathered for breakfast before some headed to a Hunter Valley winery.
"Sunday the 19th was the actual 50-year anniversary, so we had lunch and dinner again at the club," Mr Doring said.
"I was very pleased to have so many class members and partners attend, and we had apologies from others who couldn't come."
Mr Doring said attendees were happy with the informal nature of the gathering and the availability of accommodation in the town helped make it an enjoyable weekend. 
"We want to make it an annual event and are hoping to get another 20-30 next time."
 
UPCOMING REUNIONS
Waverley/Daceyville/Maroubra HWP Reunion
Venue: The Glass Room at the City of Sydney RSL on Wednesday 26 October 2022 commencing at 12 midday.
RSVP: Contact Ian Granland on 0412798521 or ihg777@hotmail.com 
56-Year Reunion of 108 Class 
A proposed reunion gathering has been organised for members of the Police Force sworn in at the Police Barracks, Bourke Street, Redfern on 16 September 1966 on Friday 16 September 2022 at Club York.
$33.00pp - Club Members $30.00pp
Bar Service
TIME: Pre-meal drinks 11.30am - Ground floor
Lunch 12.30pm - Bistro Level 1
CONTACT:  John Larkin - 0418.417517 or Guy Pianta - 0409.268820
OLYMPIC SECURITY COMMAND CENTRE (BELATED) 20-YEAR REUNION  
After 2 failed attempts due to Covid, we have finally set a date for our belated 20-year reunion. We have decided on an informal get-together which is much easier to organise. 

Saturday, 17th September 2022
From 3pm until late.
Meet in Sterlo's Sports Bar at Parramatta Leagues Club, 1 Eels Place, Parramatta  

Come for a few drinks or stay for dinner, whatever suits you. We won't be collecting any money, just turn up and pay for your own drinks and meal. 
Please pass on this information to any ex-OSCC staff that you may be in contact with, as a large number of the email addresses we have are no longer valid  
Any enquires please call Donna McMahon on 0414841026