Delegates, staff and guests gathered on the second night of the 2022 PANSW Biennial Conference to celebrate The Branch Official Of The Year Awards. 
2021-2022 Branch Official of the Year – David Coyle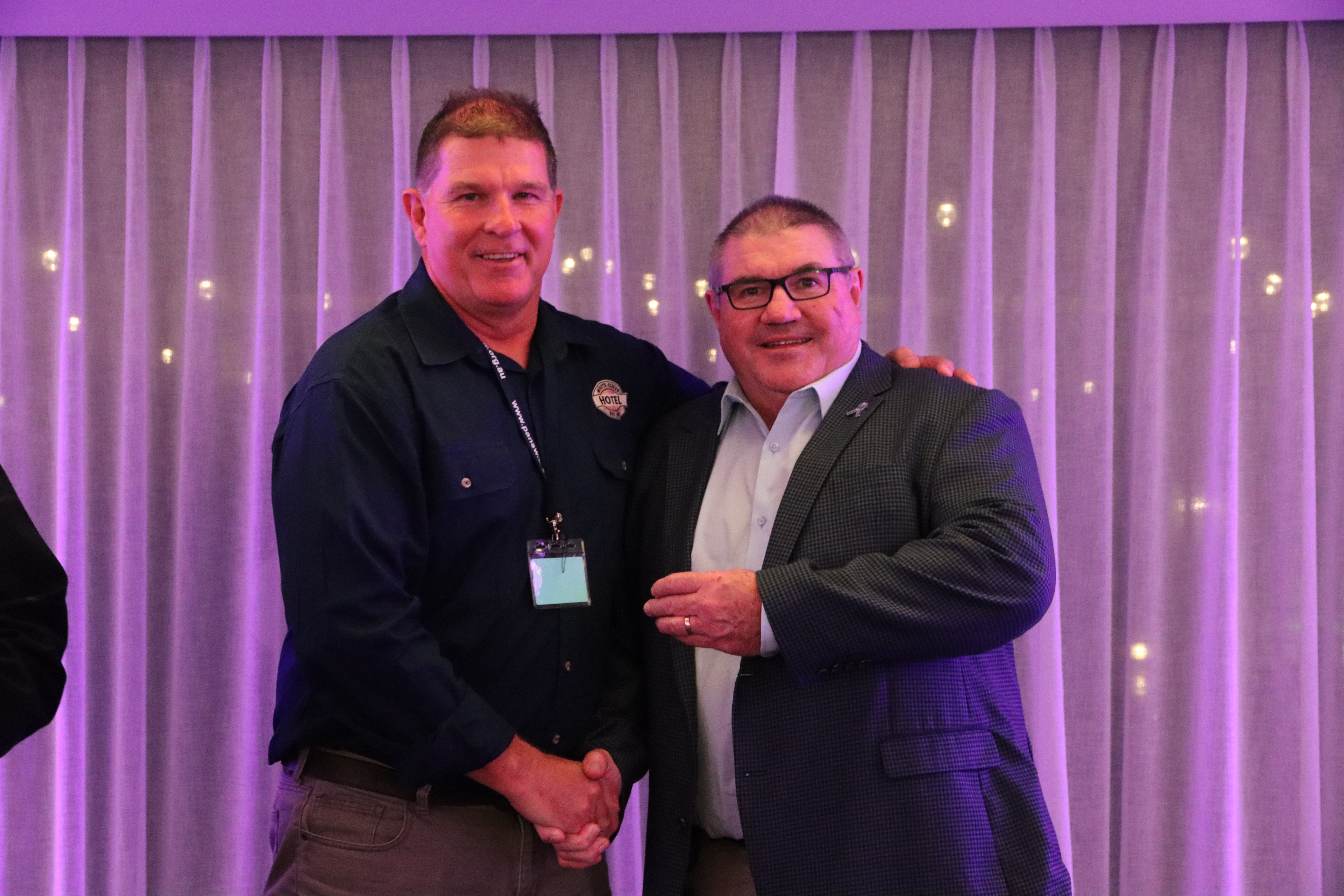 Western Region Executive Member Chris Jordan kicked off the proceedings by presenting David Coyle with the highly-coveted 2022 BOOTY Award.
David was recognised for his tireless efforts in supporting branch officials. He spent many hours of his own time taking care of the members in regional areas, despite his family being on the opposite side of the state.
In accepting the Award, the Broken Hill Branch BO was quick to acknowledge that he couldn't have achieved these outcomes alone and acknowledged the efforts of his Branch Chairman, PANSW Organiser Rod Sheraton, outgoing President Tony King and more. 
The Exemplary Service Award – Brett Henderson-Smith
Incoming PANSW Vice President Ian Allwood stepped up to present his former Northern Region counterpart Brett Henderson-Smith with the Exemplary Service Award. 
Brett has been extremely active and held various positions with the PANSW including as a Branch Official for 11 years and an Executive Member for seven years. 
"Branch officials, Delegates and Executive Members are the foundations of our Association. We simply could not exist without men like Brett." Ian said. 
Saying a couple of quiet words, Brett said the recognition was "totally unexpected but very much appreciated". 
"All the things we've achieved have been done as a team – people just wanting to do the right thing by those most in need. That really makes me proud."
Brett was particularly proud of the financial powerhouse that the PANSW had become under the Executive's stewardship and its commitment to welfare assistance. 
In closing, 'The Big Brain' thanked the Northern Region team including PANSW Organisers and Industrial officers, PANSW President, Executive and staff for their commitment to the membership. 
Peer Recognition Award – Alison Beeche 
Outgoing Treasurer Craig Partridge introduced the Peer Recognition Award winner as a member who had distinguished themselves through supporting member wellbeing. 
Alison became a Branch Welfare Officer three years ago and has set the benchmark ever since. She is constantly preparing care packages and visiting members in hospital or on long-term sick leave – even those outside of her own Command. 
Alison spoke passionately about the role of the BWOs. 
"This is an amazing recognition for something that many of you do behind the scenes already," she said. 
"There is a lot more work that can and will be done.
"I would like you to all go back to your Commands and be able to have that conversation with people and say 'look after yourselves".
Special recognition of service – Rod Harty 
In a special presentation, PANSW Secretary Pat Gooley and Industrial Secretary Kirsty Membreno recognised long-serving PANSW staff member Rod Harty. 
Joining the Association as an Industrial Officer in 1999, Rod's expertise in superannuation saw him become a fierce champion of the members' entitlements. As a passionate advocate for the blue family, he spoke to thousands of members over 24 years and assisted them in securing their financial futures.  
 "I'd encourage you all to get active because you can make a massive difference in your workplace and I think the recipients of the awards tonight are proof of that and achieve things that they never would have thought were possible," Rod said. 
"You are the face and the most important cog in the PANSW as the Branch Officials out there doing business."
4 Year Branch Official Badges 
Adam Davis, Simon Popovic, Josh McKenzie, Adam Piffarelli, Hugo James, David Austin, Cody Woods, Todd Anderson, Luke Trudgett, David Watts, Guy Guiana, Stephen Waddington, Jacqueline Gorrie, Paul Stamoulis, Andrew Buchtmann, Fiona Ozols, Alison Dixon, Wes Taylor, Nicholas Godson, Chad George and Matt Kehoe
10 Year Branch Official Badges 
Justin McEvoy, Steve Giffney, Richard Gentle, Chris Brogan, Michael Power, Michael Smith, Damian Goddard, Kelly Hallinan, Matt Thomson, David Coyle, David Tazzyman, Paul Ireland, Mark Drysdale, Julianne Randall, Kate McMillan, David Kneipp, Ian Griffin, Peter Hughes and Michael Ward