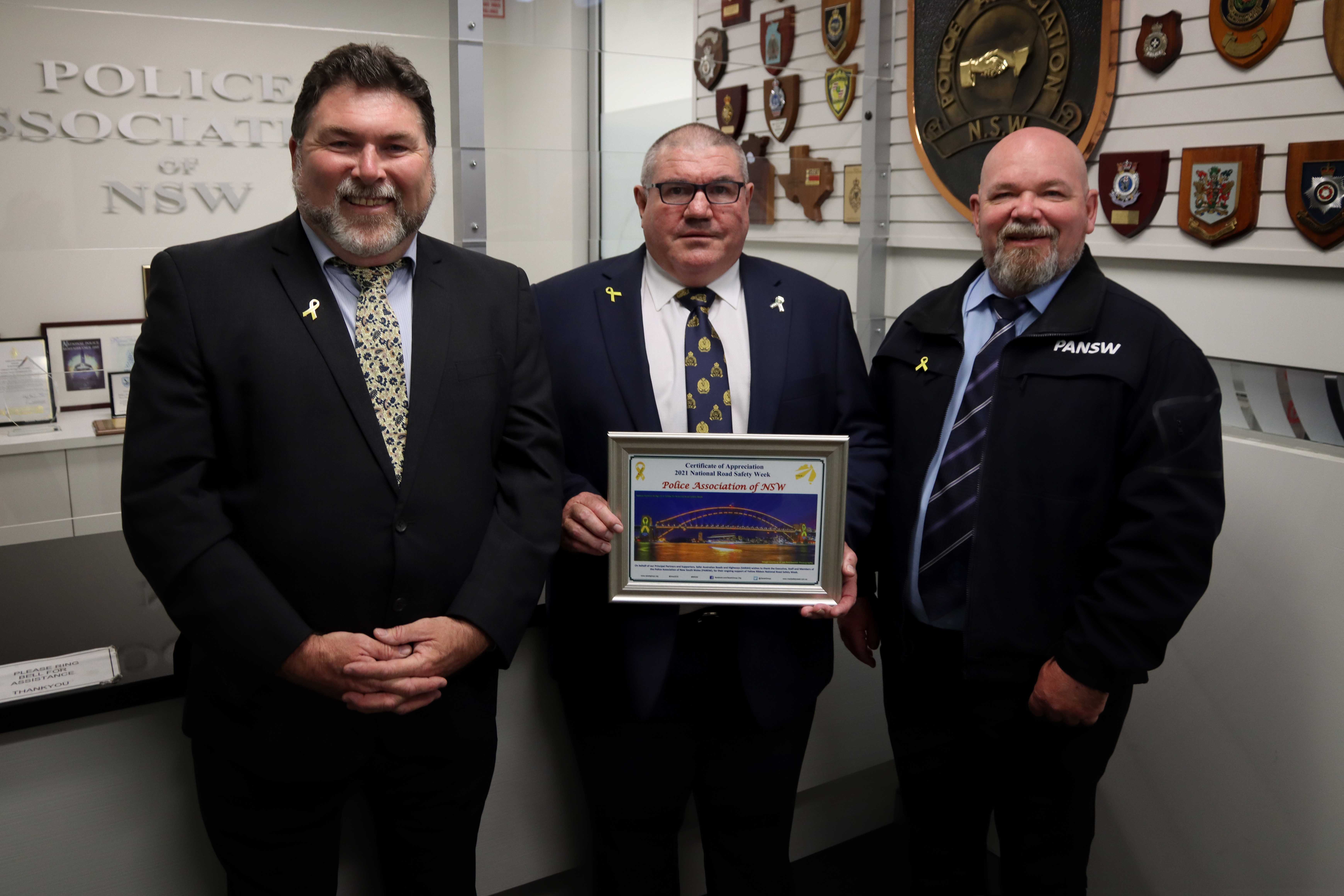 PANSW President Tony King and Vice President Kevin Morton were recently presented with a Certificate of Appreciation by Peter Frazer OAM, the Founder and President of the Safer Australia Roads and Highways Group (SARAH).
Every year, approximately 1200 people are killed and another 44,000 are seriously injured on Australian roads. Traffic injury is the biggest killer of children under 15 and the second-biggest killer of all Australians aged between 15 and 24. 
On 15 February 2012, Peter's 23-year-old daughter Sarah was driving to Wagga Wagga to commence her University degree when her car broke down. She pulled into the emergency breakdown lane and called for assistance. Tragically, a truck side-swiped the broken-down car – killing Sarah and the tow-truck driver that was hooking up her vehicle. 
Since then, Peter established SARAH to ensure that more lives are not lost through preventable road accidents. He has dedicated his life to improving road safety outcomes through policy development, community education, and advocacy work. 
A key achievement was realised in September 2019, when the NSW Government brought Sarah's Rule into law that mandates drivers must slow down to a set speed and move over at a car crash, when an emergency service vehicle has lights flashing or if someone has broken down.
Since SARAH's inception, The PANSW has actively promoted the organisation's road safety work and initiatives including the Drive So Others Survive campaign and Yellow Ribbon National Road Safety Week.

"Our members see the tragic outcomes of preventable road vehicle incidents every day and are sadly left to inform families that they have lost a loved one." PANSW President Tony King said.

"Everyone out and about on our roads deserves to make it home. The PANSW is proud to support SARAH in their promotion of road safety awareness and Yellow Ribbon National Road Safety Week." 

National Road Safety Week will be held between 15 - 22 May. For more information, visit the website.