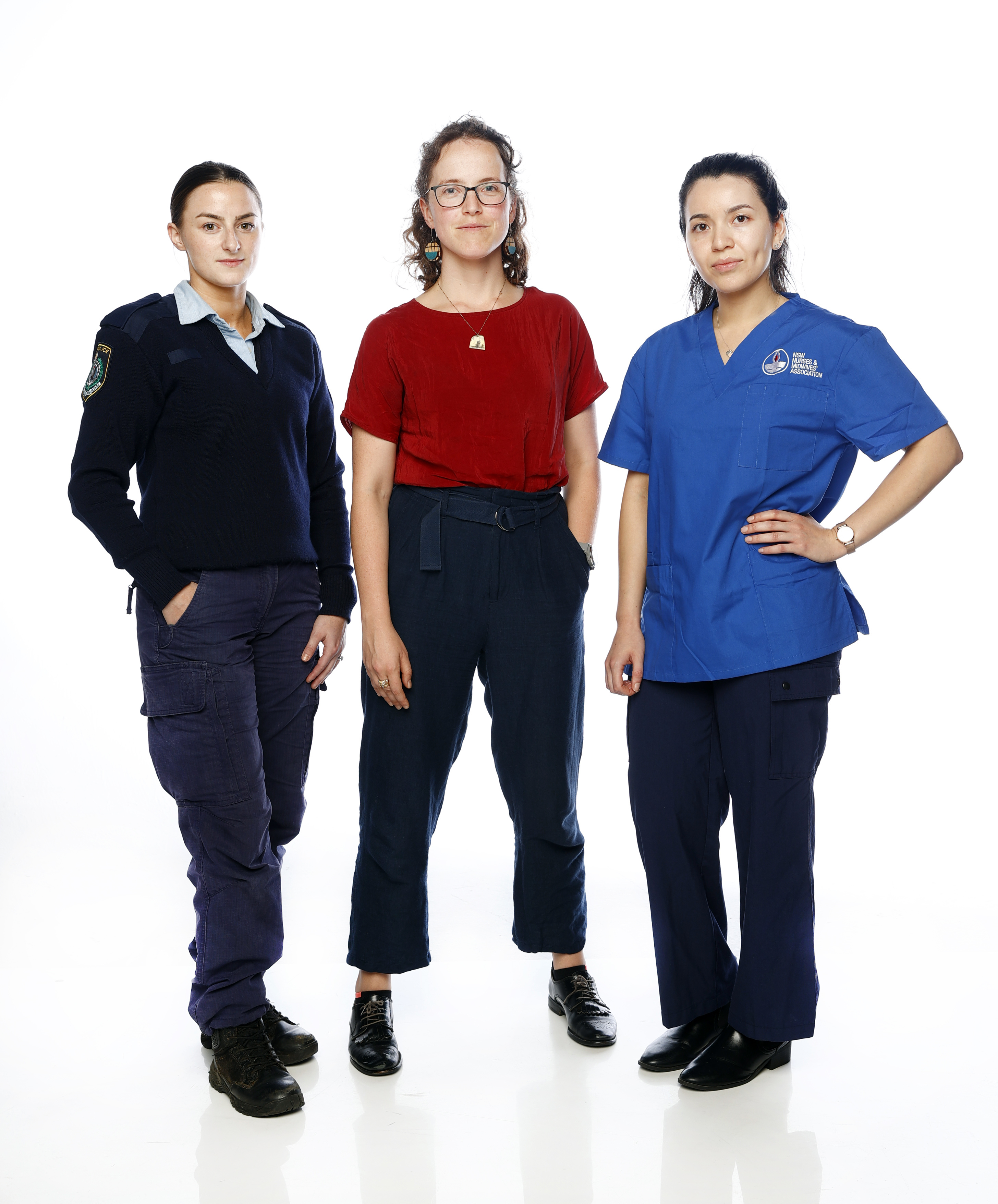 Police Officer Melissa Bentley - teacher Sierra Classen and nurse Melissa Suarez
Image Credit: Richard Dobson, Daily Telegraph

By Angus Skinner
PANSW Research Manager
While no career is without compromise, police officers make many sacrifices to serve and protect our communities. 
Our members see people at their darkest or most vulnerable during their work, often putting themselves in harm's way to protect others. 
Outside of this, they move their schedules around to accommodate shift work, often missing significant milestones with family or time with friends.
All essentials workers - be it police, teachers, firefighters, or nurses - deserve to lead financially secure lives - with comfortable housing arrangements for themselves and their families. 
Working on the frontline should not mean sacrificing the oppourtunity to own your own home or being consigned to renting for the rest of your life. 
Frontline workers forced out 
Many areas of NSW are becoming too expensive for essential workers to live in. This forces police to choose between shouldering the financial stress of meeting rising housing costs or moving far away from where they work and dealing with extended commutes.
Daily Telegraph journalist Lachlan Leeming recently drew attention to the difficulty facing police officers, teachers, and nurses who work in Western Sydney but cannot secure suitable housing nearby due to the cost.
Constable Melissa Bentley works at Parramatta Police Station. Her partner also works full-time. Even with their combined income, the Sydney housing market is inaccessible. As a result, Melissa is facing the possibility of commuting from the Central Coast - where the couple are looking at buying – to attend work each day.
"Even with both of our wages being decent wages, we can't even get the pre-approval for Sydney," She says, "I worry about the travel to and from work, but to own a house, I guess it's what you have to do."
By the numbers 
Research has demonstrated there are almost no sections of Sydney classified as affordable for most NSW police officers. The number of years it takes to save a deposit on a police income is many years longer than it was only a short time ago.
As a result, many members like Melissa no longer reside in metropolitan areas, resorting to traveling long distances - often on little sleep - to get to and from work.
An unacceptable standard of living
Do we want to live in a society where the people that keep us safe, look after us when we are sick, or teach our future generations, cannot afford to live among the communities they serve?
PANSW President Tony King says that it is "unacceptable" that essential workers can no longer afford to live in the communities where they provide vital services daily.
"Cops work long, often gruelling  shifts, helping to keep our communities safe. Having to then jump in a car and drive hours to get back home is not simply an inconvenience, but incredibly dangerous."
'More needs to be done' 
Your Association continues to advocate for secure housing solutions for members. The PANSW has delivered options to help younger members requiring rental housing when they first graduate. However, to provide accommodation on a larger scale and assist more police officers will require the Government to step in and create far-reaching policies.
"The PANSW has been pushing governments of all levels to address the issue for years, but there are still no meaningful measures in place," Tony says.
"We know that some of the state's historically more expensive areas, such as Sydney's Eastern Suburbs, have long been unaffordable for people on essential service wages, but the issue is now spreading even further, including areas like Western Sydney.
"We know there are benefits to be gained from having police living in and building connections with the local communities they operate in. Making sure police have the option to live where they work can result in better outcomes for everyone."