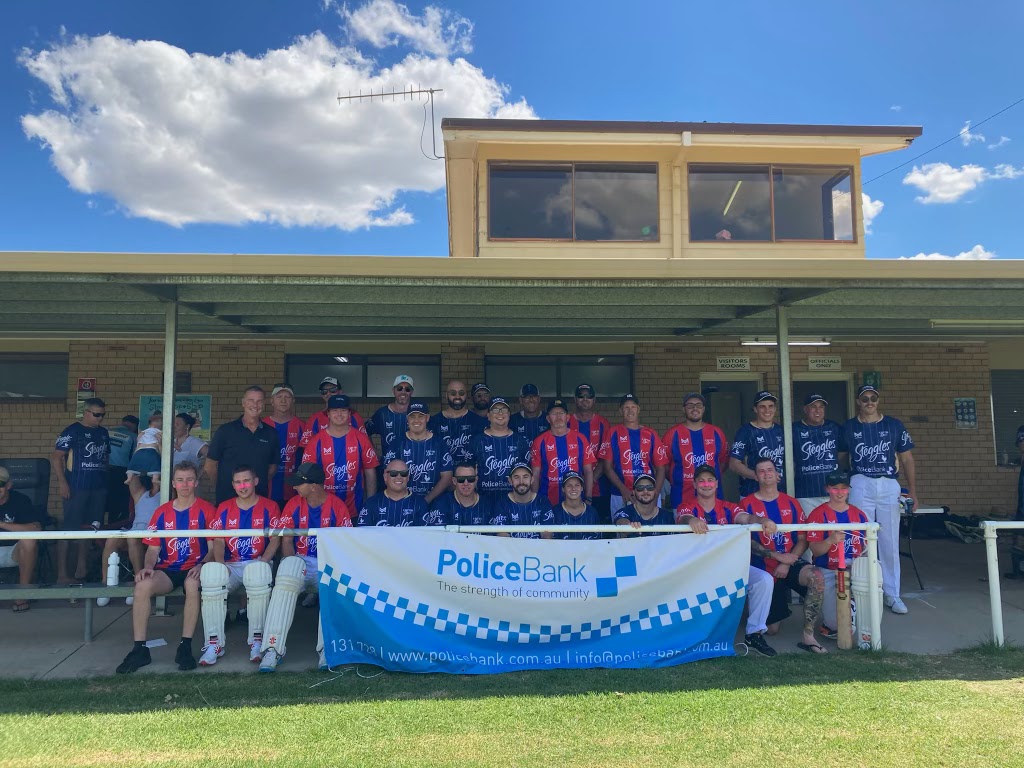 The Riverina and Murrumbidgee PAC teams were all smiles off the pitch 

By Trelawney McGregor
PANSW Industrial Officer
On Saturday 12 February 2022, Officers from the Riverina Police District and Murrumbidgee Police District came together to battle it out in a charity 20/20 cricket match. 
Organisers of the Amazing Day for Daz took advantage of the long-time friendly rivalry between the two Police Commands to raise funds to assist one of their beloved colleagues Constable Darian Convery as he bravely battles a cancer diagnosis. 
With the event proudly supported by the PANSW, Field Organiser Martin Evans, Member Support Coordinator Ian Johnstone, and Industrial Officer Trelawney McGregor served up food and drink for the players and spectators.
The money collected from the PANSW's food and beverage sales went towards the overall funds raised on the day - with Police Bank and Steggles generously donating supplies.
Senior Constable Tyran Moran from the Riverina Police District, who organized the event and helped on the day, said the amount raised was a testament to the officers' generosity at both Police Commands. 
He also thanked the PANSW, Police Bank and Steggles for their support and generosity. He mentioned he would not have been able to organise the event alone and acknowledged the significant assistance from Senior Constable Cameron Ellis. 
"It was a fantastic day and cricket match, with a decent crowd from both Police Commands. The amount of money raised was a fantastic effort," he said.
"Of course, we would like to thank the North Wagga Australian Rules Football and Netball Club for providing a spectacular venue and allowing the Officers to play here."
Murrumbidgee Police District gained the ultimate bragging rights after a hard-fought ten-run victory.
This memorable event - where  PANSW staff were able to come together with members to help out a mate - was followed by a unique evening function and charity silent auction with stunning views of the Wagga Wagga Racecourse.